昨日、Discordがアップデートされて絵文字に対応しました。直感的に利用出来る様になったのは素晴らしいですね。
今回のアップデートの詳細は、以下の通りです。
Discover Emoji with the fancy new Emoji Picker. Just click on it in the text area to be whisked away to emojiopolis.
Discord Official API with support for bots and oauth is now documented and ready for take off. If you're a developer, click this blue link to read the docs and start building right now.
More Emojis are pretty much the only thing I've ever wanted in my life. Now they're here in Discord. All Unicode 8 emoji including :taco: and :eggplant: are available for good ol' fashioned fun.
People Emoji can now change skin color as part of the new Unicode 8 support. Pop open the Emoji Picker and choose your preferred color to be yourself, and not someone else. :ok_hand::skin-tone-2:
Member List can now be toggled at will by clicking a button. Find the button on the top right. Great for not seeing people.
We Improved the Disconnect Sound to take advantage of this futuristic new technology called Stereo. MajorLeagueWobs made a beat. MicDaMicrophone made a rap. Check it.
Streamer Mode lets you hide your kids, your wife, your husbands, and all your relevant Discord information you don't want public while streaming.
Improved SFX quality across the entire app to make your beeps and boops way tastier.
Stability Improvements (you'll now resume without losing state if your net drops briefly). One of those things that you won't notice and that's exactly the point.
Overlay functionality improved. You can now drag & drop users between channels.
Compact Mode has been great, but got out of line. Now it's been aligned. All the lines align.
Wumpus is now on iOS. That's it. Wumpus is now on Discord.
iOS Performance Improvements to make the app more good and less bad.
Animation Polish on opening and closing direct messages went through acting class and now perform better.
Airhorn Solutions will live on and is being open sourced to show off the API. Add the bot to your server and get #ReadyForHorning

(引用元)
そして気になるのが「公式APIの公開」です。今までのDiscordでは非公式APIを利用する必要があり、非公式APIを利用したbotアカウントも複数あった訳ですが、公式APIが公開された事で、今後はbotが熱い国内でもDiscordの認知度が高まっていきそうな気がします。
公式リポジトリはこちら。
GitHub - discord/discord-api-docs: Official Discord API Documentation
Official Discord API Documentation. Contribute to discord/discord-api-docs development by creating an account on GitHub.
公式リファレンスはこちら。
Discord Developer Portal — API Docs for Bots and Developers
Integrate your service with Discord — whether it's a bot or a game or whatever your wildest imagination can come up with.
おまけ
今回のアップデートで紹介された「AIRHORN BOT」ですが
!AIRHORNでボイスチャットに警笛が流れるBOT pic.twitter.com/HNuWHtlnp0

— まるほい (@maruhoi1) 2016年4月9日
導入するとコマンドを打つことで警笛が流れる様になります。一応使い道はありそうですけど、悪用は厳禁って事で・・・w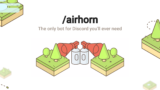 /airhorn
A Discord bot with live statistics that makes airhorn sounds BEEP BOOP.